Posted by Marina Bonanno on Apr 25th 2023
The dog days of Summer are rolling in and there's no better way to beat the heat than to hit the beach. With travel on the rise and fashion trends making a comeback, there's a lot to consider when finding the perfect swimsuit. Don't worry Loleono lady, I've got your back.
2023 Swim trends are all about comfort, style and versatility (yes please!) But don't worry, the funky, Speedo one-pieces are staying in the 90's. Ready to pack up and ship (fly) out? Read along for my favorite 2023 swim trends and the suits that are sure to make waves this Summer.
Texture
Beach to street style is stepping up with new fabrics and textures. Say goodbye to traditional Nylon and hello to unsuspecting, water-wicking suits. I love the BSwim honeycomb knits and sparkling Hibiscus Shine by Beachriot. Pair these separates with a lightweight cover up or playful shorts for a resort wear look that's sure to impress.
1-The Elizabeth Top and Ryan Bottom by BSwim feature a textured, honeycomb fabric with vibrant, ocean-inspired colors.
2- The Hibiscus Shine set by Beach Riot has a sparkly, nylon fabric with sunset colors and a reflective glitter that shimmers in the sun.
Black One Piece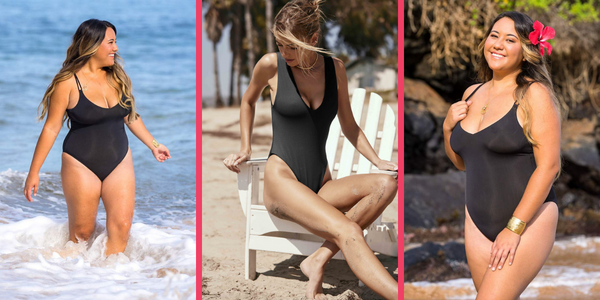 Channeling my favorite lbd in swim form…anyone else? The Black One Piece is a swimsuit staple this season; perfect for water sports, photo ops and doubles as a bodysuit for on-the-go beach babes.
1-The Veronica One Piece is a classic lbop (little black one piece) with a sleek v-neck and double-cross back. It's the one you'll want to put on whether you're catching waves or catching rays.
2-The Panther One Piece is a cheeky twist on a swimwear staple. The deep-v and high-cut leg are the perfect blend of retro and modern styles.
Triangle Tops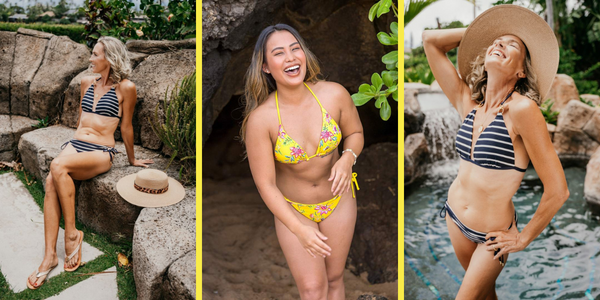 If you're ready to try a trend and up your tan game, this one's for you. Triangle tops are back again and here to stay! I love the versatility of adjustable straps, modern look and *super* comfortable design.
1-La Blanca is notorious for releasing classic cuts with some stylish flair. This bikini is no different! The Triangle Capri Stripe 'kini is one of my personal favorites for a look that is both trendy and timeless.
2-Who doesn't love a two-in-one?! The Starlette Triangle bikini features a reversible, floral print that reverses to solid for a triangle top that pairs with anything.
UPF Swimwear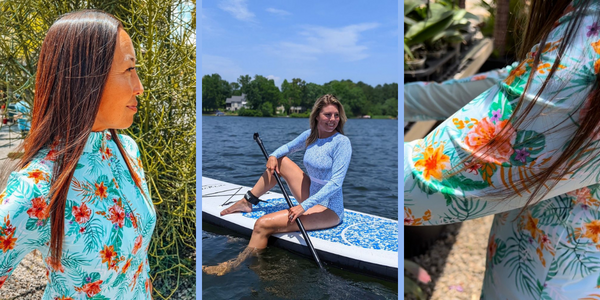 Now you don't have to choose between loving your skin and loving your swim. UPF Swimwear combines sun-safety and skin-loving goodness like reduced risk of sunburns whilst looking fabulous. Count me in!
1-Surf meets style with the Cabana Life Paneled Unisuit. This UPF-enhanced one piece features a flattering design mixed with skin-loving sun protection for those long days on the water.
2-Going from beach to street? Skip the outfit change with this stylish water-wicking pullover. The Cayman Performance Zip top features built in UPF 50+ protection with a print that captures the Cayman Islands.
As the Director of Operations and Copywriter at Loleono, Marina Bonanno conjures up island-inspired fashion, trend and travel advice. Her posts are here to inspire you to live better, eat better and dress better, of course. Follow along for weekly tips and tricks to living a vibrant, Loleono lifestyle.