Posted by Marina Bonanno on Nov 23rd 2022
In today's world, "less is more" is trending. With that in mind, I love infusing my wardrobe with versatile pieces that transition throughout the seasons and occasions. A timeless work dress that doubles as the perfect holiday-party outfit? Count me in. Gretchen Scott does just that. This line combines classic styles with modern prints and timeless designs. Infused with fun, their mantra is: "Laugh More, Gripe Less, Ignore Critics, Say Yes, Order Dessert, Love Life" which you'll find sewn into all of their pieces. How cute is that?!
Added bonus: you don't have to empty your pockets to look like a million bucks. Gretchen Scott is attainable luxury; offering high-quality, long-lasting pieces for a fraction of high-end designers.
Gretchen's line is ever-evolving and inspired by her worldwide travels, so it's hard to narrow down just a few favorites but read along for my Gretchen Scott must-haves.
Dresses:
Every classic (and timeless) wardrobe needs a few staple dresses. If you have been hunting for a brand that will deliver all of your dress needs–look no further, this is your sign.
First on the list because no dress is as iconic as this one. Gretchen is known for this classic collar with a bit of flare. Pair it with a jean jacket and white tennis shoes for a casual lunch or add some pearl studs and wedges for a night out. Heading into the office? The Ruffneck pairs effortlessly with a tapered blazer and metallic pumps for a look that says "Friyay" every day of the week.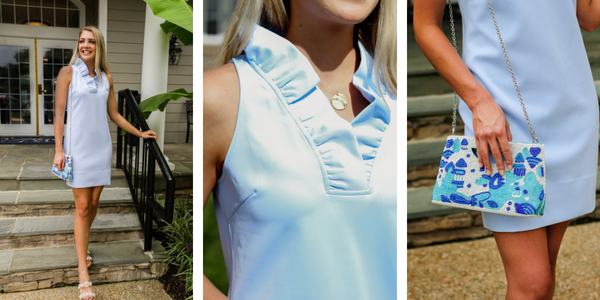 The dress that will make you want to dance with joy, Gretchen Scott's Twist & Shout is the right dress for every occasion. I love the flattering, twisted waistline and elegant collar not to mention the fabric feels ultra luxe. You know when you find the perfect tee and order it in every color? The Twist & Shout is that dress.Take it from me, I own it personally in an array of colors and prints. Pair her with stilettos and lariat earrings for a night on the town, or with mules and a tote bag for a day at work. Nowhere to go? I won't judge you for wearing this one to run errands…yes, it's that comfortable.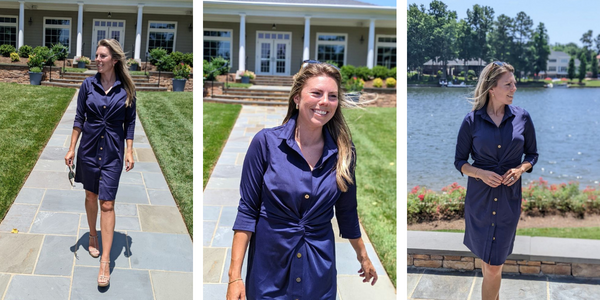 Perfect for the vacation you're on or the one you're dreaming of on your drive to work, this dress checks off my three C's: classic, colorful and comfortable.The jersey knit fabric drapes effortlessly on any frame making it the perfect piece to grab when you don't want to think about getting dressed. Pair it with a gold necklace and slides for that perfect, preppy resort-style or add some knotted studs and wedged slides for a timeless take.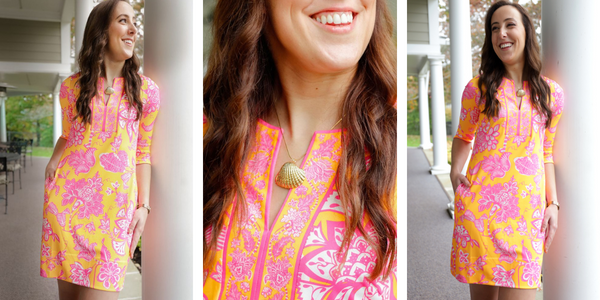 Tops:
To be classically chic, you'll need some tried and true tops to reach for. I love that I can count on Gretchen for just that, whether I'm going on a run or running late to the office.
Can't get enough of the Ruffneck Dress? You're in luck. Available in sleeveless and ¾ sleeves, this top features the iconic, ruffneck collar and pairs perfectly with your favorite bottoms. Tuck it into a skort for lunch with the girls or with the Gripeless Pant for an foolproof, everyday style.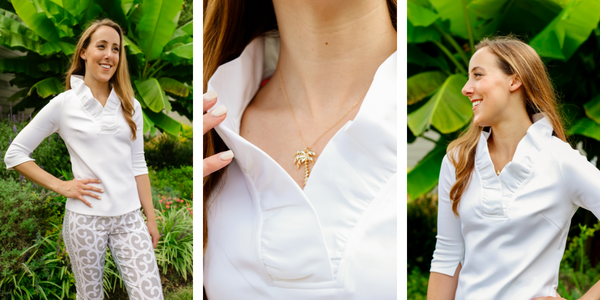 Active girl with a classic style? I hear you girl. You never have to trade fashion for function with Gretchen's line of atheisure wear. I love the easy, breezy fabric of the Jock Girl Top built with UPF protection so you keep on loving the skin your in. Pair it with the Jock Girl pant for a matching set that is bursting with color, or with the Midnight Performance leggings for something more subdued.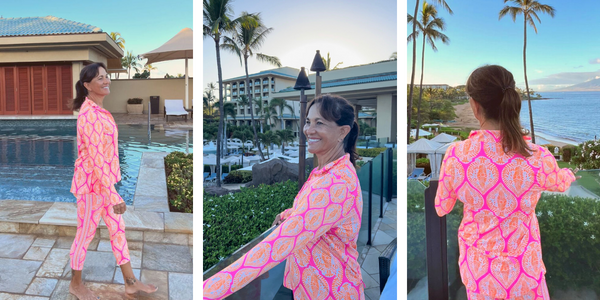 Nothing says elegance and luxury quite like silk. If you're curating a classic style, you'll want to have one (or a few) silk tops in your collection. I love this tunic over white denim, or as a cover up with some oversized sunnies.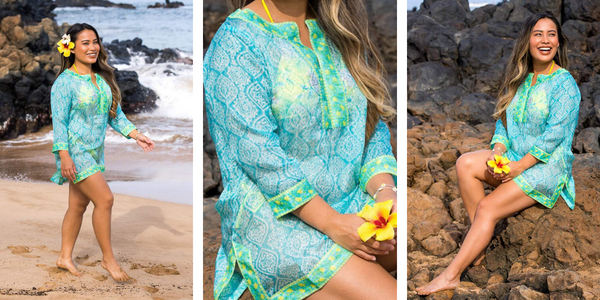 Bottoms:
The perfect pants don't exiss……just kidding, I've found them. Remember when I mentioned finding the perfect style and buying it in every color? You can thank me later for this 10-star recommendation.
Available in all the best solids (and prints), these pants go with everything and I mean everything. Featuring a pull-on waistband and tapered ankle, they're the perfect pant at the office or out to dinner.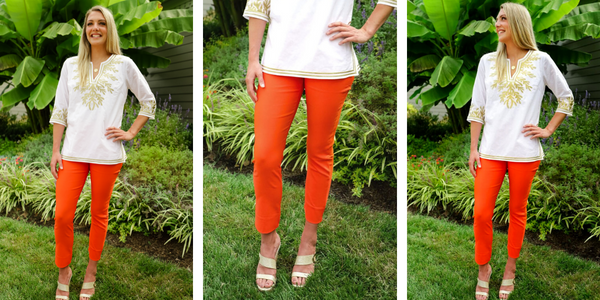 With this new shopping list (you're welcome!) you're probably wondering…
Does Gretchen Scott run true to size?
All of the brands at Loleono have a unique and high quality fit. I hope that the following information can help you choose the best fit for your body; however, this information is based on my personal experience as well as real customer feedback.
Gretchen Scott tops and bottoms run true to size! Because these pieces are designed for a polished look, they are meant to be fitted. Gretchen Scott dresses run slightly large. I would recommend sizing down for the proper fit or ordering your normal size for an oversized look (like a caftan or cover up)!
As the Director of Operations and Copywriter at Loleono, Marina Bonanno conjures up island-inspired fashion, trend and travel advice. Her posts are here to inspire you to live better, eat better and dress better, of course. Follow along for weekly tips and tricks to living a vibrant, Loleono lifestyle.