Posted by Marina Bonanno on Sep 30th 2022
Imagine this: you're lounging by the Four Seasons Wailea infinity pool, the sun in shining and *poof* a Mai Tai appears in-hand. You can hear the pacific waves crashing ashore and as the tide washes away, so does your to-do list. Magical right?
You're probably thinking to yourself "that sounds wonderful, but Summer is over." We hear you lady. But before you trade your golden glow for those Winter blues, we'd like to introduce you to the sunshine-all-year, tropically-inspired, put-a-smile-on wardrobe staples. Yep, we're talking about Resort Wear.
So what IS Resort Wear?
From tropical tankinis to date-night dresses, Resort Wear is clothing designed with your next getaway in mind. Featuring comfortable and versatile fabrics like Rayon and wrinkle-resistant sport knits, our resort wear collection was curated with all of the best 2022 styles, fabrics and fits in mind. Just think: your wardrobe went on a hiatus to Maui and came home forever-changed. Sounds bright and beautiful right? Right!
This resort wear collection includes preppy yet elegant dresses, bright-colored golf-clothes (for that golf-centric getaway) and vibrant swimwear for your days by the pool. Not going anywhere soon? We've got you covered. Pair bold statement pieces like our Tropical Paradise clutch with some Gripeless Pull-on-pants for an eye-catching look that will turn everyday into vacay.
When is Resort Season?
You've heard of Spring, Summer, Winter and Fall but there's a new season on the block. Say "Aloha" to Resort Season! It's always sunny and 75 degrees here.
Just when you thought it was time to pull out those Winter scarves, we're coming at you with bright-colored swim, classy cover ups and golf-gear that's worthy of a hole-in-one. We're talking to you snowbirds!
Escape the cold of Winter and Early Spring with resort-inspired apparel that's vacay ready no matter what the forecast says. From a hiatus in Hawaii to a catamaran in the Caymans, this season was made for you.
Load up on tennis apparel for that sunny snowscape or tropical tankini for that cabana at the Four Seasons. No warm-weather getaway planned? No problem. Resort Season isn't just for jetsetters. We're thinking ahead so you don't have to scramble for that last-minute Spring Break suit.
What should I wear on a Resort Vacation?
Headed to a sun-filled stay at Seychelles? What about a bustling beach club in Bermuda? You've come to the right place! Our bright and beautiful collection was made for that resort-lifestyle. Imagine a 24/7, all-access pass to the best resort wear of the season. *Enter www.loleono.com here*
We've taken all of the pain out of packing by finding the best women's resort wear. Our colorful yet classic swim styles are perfect for taking a dip or cooling off in the cabana. Dreaming of R&R? Sport our eye-catching dresses for a seaside, sunset meal. Active angel? Don't forget to pack our sun-safe IBKUL (icikuls) tops and dresses for a day on the course or our Cabana Life Performance Zips (with built-in SPF 50+ protection) for sunrise yoga!
built-in SPF 50+ protection) for sunrise yoga!
Still need help packing? Here are some of our resort must-haves:
Golfing Goddess
If golf is your game, our Ibkul (Icikuls) collection was made for you. This Fall/Resort season, we're loving the plum tones in our Aubrey Long Sleeve Crew Neck (also available in dress, skirt and ruffle-sleeve top–amazing right?!) Both pieces feature built-in UPF 50+ protection for those long games in the sun and flattering fits transition effortlessly to lunch with the girls!
Featuring: Aubrey Plum Long-Sleeve Dress, Aubrey Long-Sleeve Crew Neck and White Flounce Skirt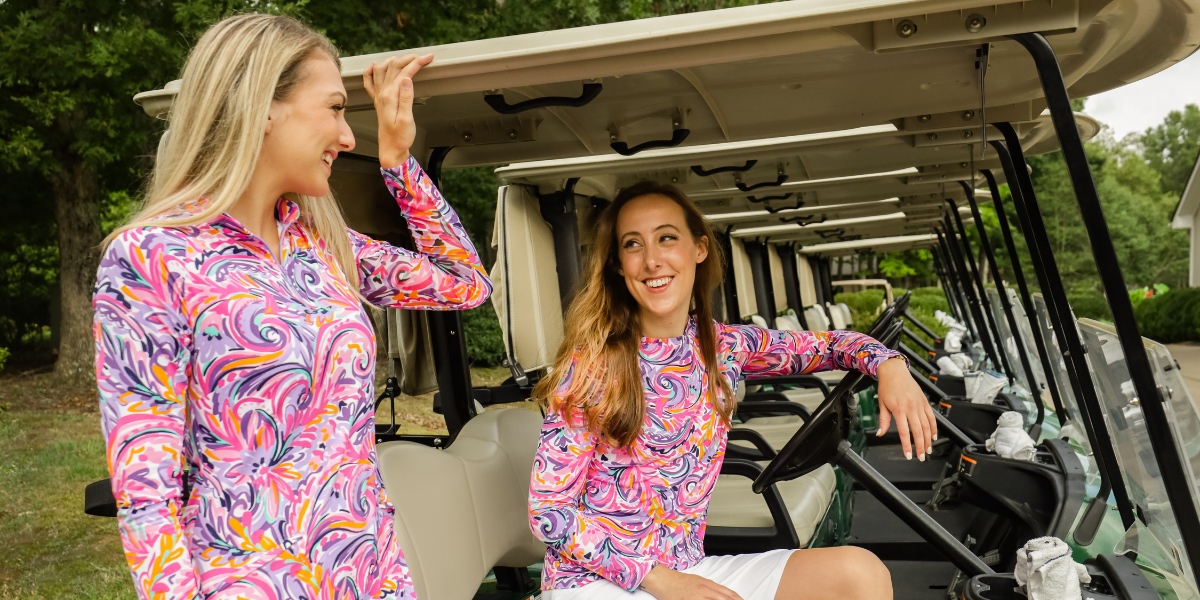 2. Accessorizing Angel
Make any season resort-season with colorful accessories! This season, we've brought on new, handcrafted favorites from America and Beyond, a small batch line of beaded/hand-stitched clutches that will leave a lasting impression. Headed to a tropical paradise? Don't forget our Tropical Paradise Embellished Clutch featuring bright pinks, greens and yellows that compliment any getaway style.
Featuring: Gripeless Pant in Tangerine, Tropical Paradise Embellished Clutch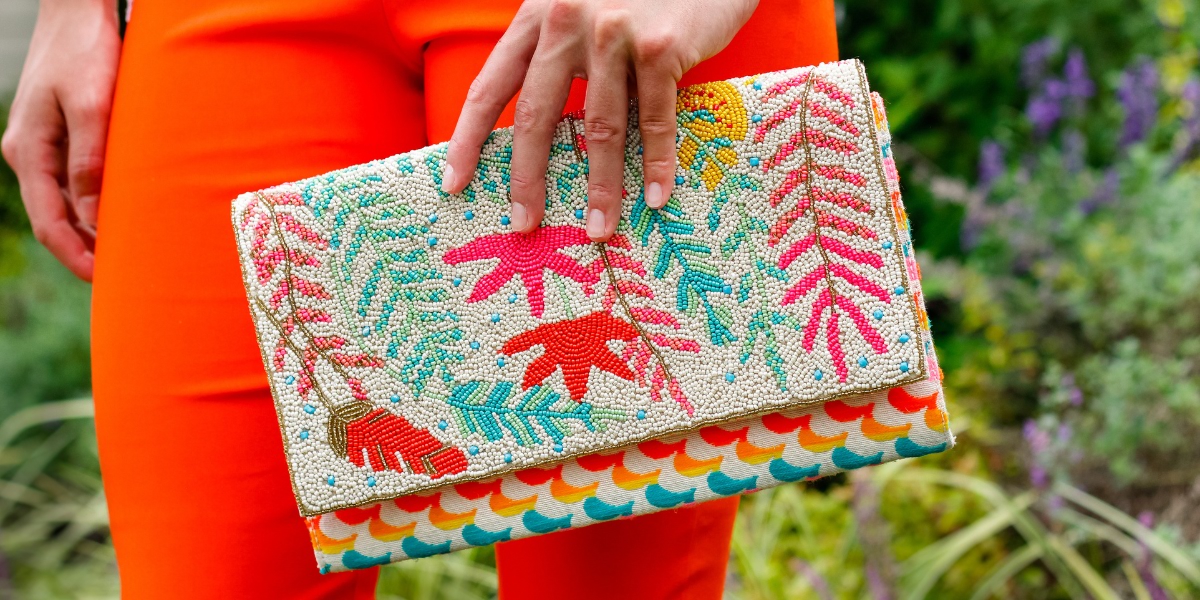 3. Tennis Chic
Escape to one of our favorite Hawaii resorts, the Mauna Kea Resort. Noted as one of the top ten tennis resorts in the world, The Seaside Tennis Club offers ten premier courts with stunning ocean views. Pack us with you?! With daily clinics, round robin tournaments and one-on-one lessons, you'll want to pack plenty of gear. Enter Loleono here. We've stocked all of the best feeling, looking and quality pieces so you can pack with ease. A new favorite? Our Ibkul (Icikuls) flounce skort: available in three solid colors with built-in-shorts and pockets. Pair your new favorite skort with our Nora Long-Sleeve (or Sleeveless) Zip top for a pop of color that says "ready to win" on and off the course.
Featuring: Nora Multi Long-Sleeve Zip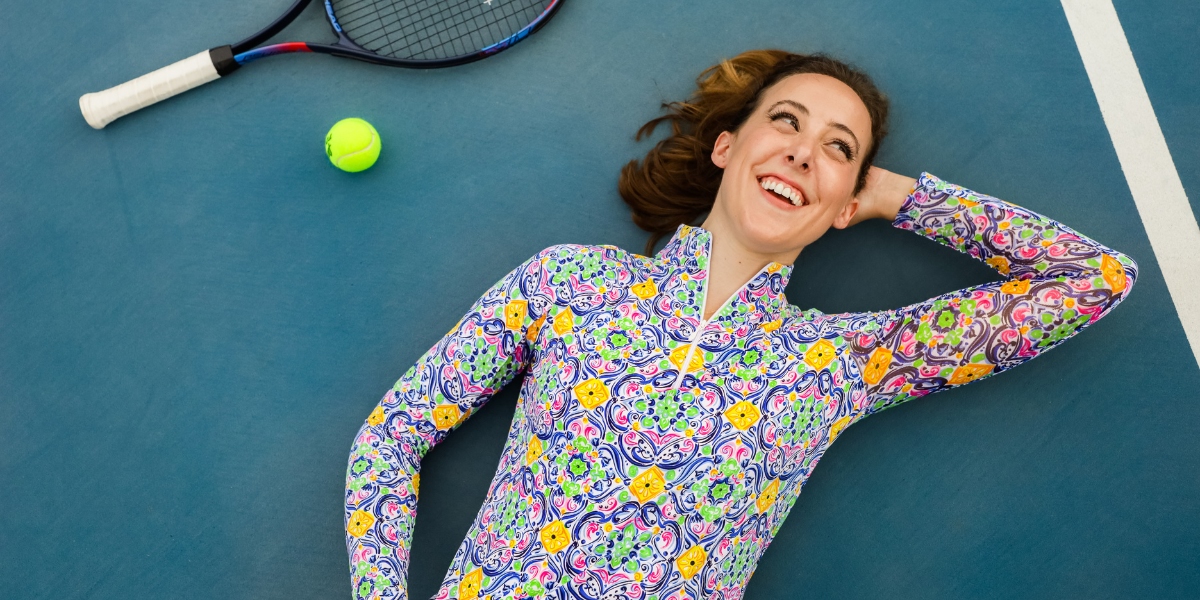 Is Resort Wear for women over 50?
You bet! Our Resort wear collection is always age-inclusive. We believe that whimsical, joy-inspiring apparel is essential along all walks of life, regardless of age. Fun is the heart of everything we do and we don't think that fun has a coming of age or an expiration date.
With that said, our collection was built for a confident and established woman. We know that finding high quality resort wear online is tough, and we value your time.
Our Resort Wear dresses are carefully constructed from high-quality fabrics that have been tried on, tested and worn in real life so that we can promise you the best-fit possible. Want to protect your beautiful skin from harmful sun rays? Us too! Our collection puts the fun back in functional with built-in SPF 50+ protection from IBKUL and Cabana Life.
So whether basking in the sun on Spring Break, celebrating retirement with waves at your feet, or planning your next getaway, Loleono was created for you.
As the Director of Operations and Copywriter at Loleono, Marina Bonanno conjures up island-inspired fashion, trend and travel advice. Her posts are here to inspire you to live better, eat better and dress better, of course. Follow along for weekly tips and tricks to living a vibrant, Loleono lifestyle.